I've been looking for an army green cargo jacket for a while. I've looked at
Gap
, Aritzia,
ASOS
, and even eBay but eventually settled on this Zara one for two reasons: the length (& 3/4 sleeves) and the detachable hood. This jacket isn't lined and wasn't really made for warmth, but I bought it for layering during the fall or even summer nights. You may have seen me with it
here
, except I didn't buy it then due to damage. The jacket has multiple pockets, a zipper & buttons, and an adjustable waist. The jacket is a close-to-snug fit; I wouldn't be able to wear a thick sweater underneath.
Other great alternatives:
A fun, bright blazer was what my closet was missing this year and I've been yearning for one of the yellow Zara ones. I had two options: the one with
zips at the waist
or the normal one with zip pockets. The "normal" one seemed more practical (even though I love anything with zips, studs, rips, etc.), so I ended up with that! The quality is amazing (and better be at the retail price of $100) and the material is very thick. The blazer is a PERFECT fit on me and I couldn't be more pleased! I love everything about it.
Other great alternatives: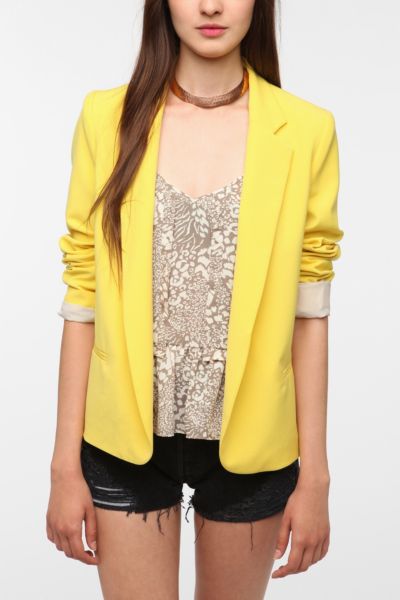 Charlotte Russe, Urban Outfitters, Walter, Urban Outfitters (
I have this!
), Topshop
* I'd like to thank Anh of
Petite Bow
for helping me order the Zara items and forwarding the package to me! You've been amazing! : )
Since I'll be going on vacation later this summer, I wanted a pair of flat or low sandals to walk in. I'm already bringing my
gold glitter TOMS
, but want something less covered for different outfits. I randomly came across the Dolce Vita gladiator sandals below and fell in love with the nude pair. (Also comes in black, tan, & white.) I'm usually a 6 to 6.5 and ordered the 6, which I would label as true to size. I can't say anything about comfort yet since they're brand new, but how comfortable can a pair of flat shoes be?! I'm more of a heels/wedges person, so these sandals will probably be more of a challenge for me. (I know for sure that they won't be as comfy as my TOMS, which I always rave about. They're the most comfortable flat shoes
EVER
!)
Dolce Vita 'Cybele' sandals in nude - Size 6
(On sale in size 8.5 & 10
here
; All the sizes & colours
here
)
*Note - I purchased the sandals on
Hautelook
(invite), who price matched Shopbop for me. The sale is over now, but the sandals are still available on
Gilt
in a number of sizes & colours!
The sale ends Sunday night!
Here's my invite
. Since Gilt has so many sizes available, you can try asking them to price match Shopbop for you. : )
Other great alternatives:
Bloglovin | Google Friend Connect
Twitter | Tumblr | Pinterest | Ask Me Anything